Best Bus services in Bangladesh
Top 10 Best Bus Services in Bangladesh
The most important details in this text are that buses are the primary mode of transportation for a majority of Bangladeshis due to their affordability. Luxury bus service providers are serving the needs of the middle and upper-middle-class people of Bangladesh, offering air conditioning, comfortable seating arrangements, WiFi, and other modern amenities. Here is the list of Best Bus services in Bangladesh. These companies are the top bus service providers in Bangladesh.
Green Line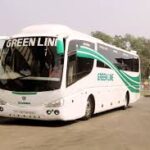 Green Line is a luxurious bus service company in Bangladesh, founded in 1990 by Al-Hajj Mohammad Alauddin. It is the first to introduce air-conditioned buses in Bangladesh and employs over 200 skilled staff members. It provides transportation services across Dhaka, Chittagong, Cox's Bazar, Teknaf, Sylhet, Benapole, Khulna, and Rajshahi.
Best Bus services in Bangladesh
Hanif Enterprise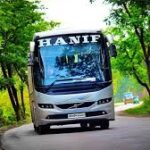 Hanif Enterprise is a cost-friendly bus service line in Bangladesh, providing online ticket-booking, digital payment methods, AC and non-AC buses, and amenities such as water bottles, blankets, pillows, charging ports, reading lights, WiFi, TV, and bus tracking facilities.
Shyamoli Paribahan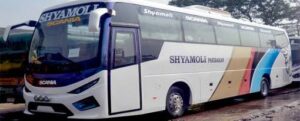 Ganesh Chandra Ghosh started Shyamoli Paribahan in 1972, which is now one of Bangladesh's biggest bus companies. It covers almost the whole country and provides cross-border travel facilities to India, with luxury vehicle brands and modern facilities. Passengers can purchase tickets online and pay through debit/credit cards.
Shohag Paribahan Pvt. Ltd.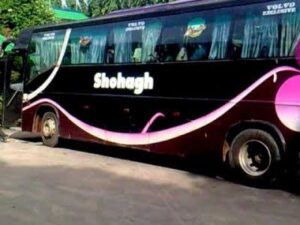 Shohag Paribahan Pvt. Ltd. is a sister concern of Shohag Group and has been providing transportation services in Bangladesh since 1973. It offers AC and non-AC bus transportation, and offers payment options such as bKash, Nagad, Rocket, Upay, Q Cash, bank transfers, credit/debit cards, and GPS and security cameras.
Ena Transport Pvt. Ltd.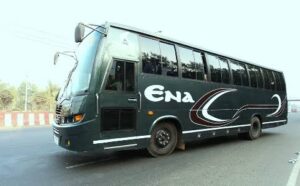 Ena Transport Pvt. Ltd. is a popular bus line in Bangladesh, but does not provide online ticket booking or digital payment systems. However, they provide exceptional service and fast travel times, and cover several key areas. The company started in 1984 with the goal of serving citizens.
London Express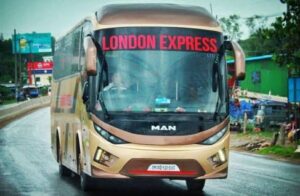 London Express is a bus service providing company in Bangladesh that began in 2017 with the aim of building an international quality transportation network. It offers online ticketing, an app, and modern buses with comfortable seats, WiFi, security cameras, and USB charging ports. Travelers can pay using a variety of payment systems.
Saint Martin Paribahan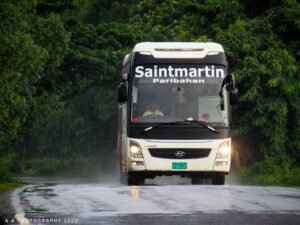 Saint Martin Paribahan is a bus line that has integrated technology into its services. It offers a cheap price-to-quality ratio and is well-furnished with modern amenities. Travelers can pay for tickets using VISA, Master Card, American Express, DBBL Nexus, bKash, Sure Cash, City Bank, BRAC Bank, etc. or physically buy them from the bus counter.
Royal Coach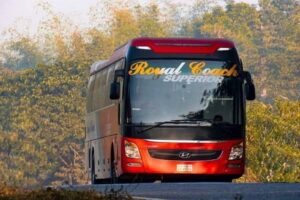 Royal Coach is a popular bus line in Bangladesh since 2012. It has several routes in Dhaka, Chittagong, Dhaka, Cox's Bazar, and Kolkata, India. There are several different brands of buses under the company, with approximately 100 buses on scheduled routes. Travelers can book tickets using the Shohoz app, and their top-notch staff provides a comfortable travel experience.
Desh Travels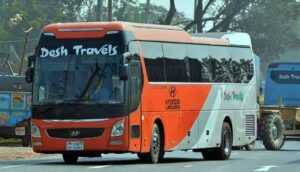 Desh Travel is a partnership business with 45 non-AC and 32 AC buses, allowing passengers to travel across Dhaka, Chittagong, Rajshahi, Cox's Bazar, Jessor, Benapole, and Kolkata. Tickets can be purchased online, offline, or from a third-party website.
Saudia Paribahan Ltd.

Saudia Paribahan Ltd is a leading bus line owned by the Mustafa Group, offering affordable inter-city transportation services from Dhaka to Chittagong, Bandarban, Chokoria, Cox Bazar, and other cities in Bangladesh.
These are the top listed bus servicing company in Bangladesh according to customers review.
Best Bus services in Bangladesh.
Read More...
Best Courier Service in Bangladesh