Most Luxurious Five-Star Hotels in Bangladesh
With its continuous development of infrastructures and tourism sector, Bangladesh is on its way to becoming one of the most intriguing tourist attractions. Stretching from the vividly colorful festivities and culture to the most breathtaking natural beauties like the world's longest sea beach in Cox's Bazar, the country has loads to offer for both local and international travel enthusiasts.
To greet tourists and professionals from all over the world with the uttermost delight, Bangladesh offers a plethora of the most luxurious five-star hotels. These incredible hotels offer not only world-class amenities and services but also extravagance and elegance to their visitors. Moreover, their significant contribution to the country's tourism industry is further developing our economy.
Today, we will introduce you to the 17 luxurious five-star hotels in Bangladesh, where you can enjoy a wholesome opulent experience. Let's commence!
Radisson Blu Chattogram Bay View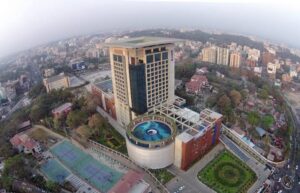 Another establishment of the Radisson Blu brand, Radisson Blu Chattogram Bay View, promises travelers a luxurious hospitality experience. Thanks to its proximity to the city's primary business Centre and the airport, the hotel attracts thousands of domestic and international business travelers each year. Moreover, as the city is the country's most popular tourist destination, Radisson Blu Chattogram Bay View is the first choice of many leisure travelers who are in quest of an extravagant stay.
The hotel furnished each of its 241 luxurious accommodations with a modernistic interior design. The floor-to-ceiling windows offer the most magnificent view of the gorgeous city of Chattogram. There are also nine meeting spaces and two ballrooms featuring the most advanced audiovisual technology. In addition, the five on-site restaurants and bars offer delectable foods and beverages to the visitors. The circular outdoor pool features a breathtaking view and an opulent pool bar.
 Seagull Hotel Limited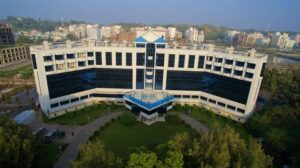 Overlooking the longest sea shoreline in the world and the majestic Bay of Bengal, the Seagull Hotel Limited offers the most scenic view among all luxurious accommodations. It was established in 2002 and shortly became the first option of international tourists. The hotel triumphantly offers a panoramic view of the hill tracts, the ocean, and the magnificent natural beauty of Cox's Bazar.
There are 181 rooms and suites available in four distinct types. The interiors of these guest accommodations are designed by blending traditional and contemporary styles with a hint of tropical colors. When it comes to dining options, there are three multi-cuisine restaurants, a pool café, a fast food eatery, and a well-stocked bar. Moreover, for conducting events, Seagull features two ballrooms, one conference hall, and a spacious poolside lawn. There are other facilities, including a gym, a billiard center, a private shoreline, and a spa.
Sea Pearl Beach Resort & Spa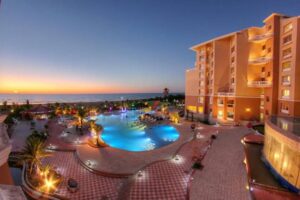 The Sea Pearl Beach Resort & Spa commenced its operation in 2015 at Inani beach, a prominent tourist location. In the east, you can enjoy the astounding greenery of the hills, and in the west, you can take in the panoramic vision of the interminable extending of the Bay of Bengal. With a broad area of 15 acres, the Sea Pearl Beach Resort & Spa has the uttermost luxurious tropical experience a traveler can dream of.
The five-star resort has a massive 493 accommodations and suites to offer, all with mesmerizing sea and hill views. Whereas there is no dearth of comfort, the elaborated accommodations also feature jacuzzis, kitchenettes, and infinity pools. With six restaurants, the resort provides some of the most flavorful local and international dishes and highlights the finest seafood.
The resort offers one massive banquet centre, three meeting rooms, an enormous poolside amphitheater, and a 60,000 square feet private beach. It also has an ice cream emporium, a bar, a coffee shop, two large swimming pools, a gym, a kids' play zone, a billiard center, an outdoor sports zone, a water park, and a salon.
 Doreen Hotels & Resorts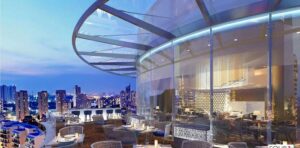 The Doreen Hotels & Resorts is officially a part of IHG Hotels & Resort, and it offers the most exclusive combination of elegance and top-notch service. Located at the core of the city's diplomatic zone and beside a vibrant neighborhood, the hotel offers convenience to foreign business professionals, embassies, and high commissions.
The hotel provides three styles of rooms and two styles of suites, all opulent in modern facilities and embellishments. There are five dining options offering a large variety of culinary experiences, aesthetic atmospheres, and picturesque vistas. For conducting events and corporate gatherings, there is one large ballroom and several well-decorated conference rooms. Moreover, there are two recreational pools and two health centres.
 Grand Sultan Tea Resort and Golf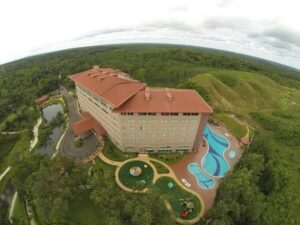 Grand Sultan Tea establishment and Golf is the only five-star tea establishment in Bangladesh. It commenced operations in 2013 at Sreemangal, Sylhet. Thanks to its location, the resort offers an effortless balance of ultimate opulence, luxuriant vegetation, and humble hospitality. For its excellent services, the Grand Sultan Tea Resort garnered several accolades, including the 2019 Certificate of Excellence from Trip Advisor and the 2018 World Luxury Hotel Award.
There are 135 luxurious rooms and suites in eight various categories, each with Mediterranean-style interiors that complement the adjacent greenery. In addition, to offer visitors the most memorable dining experiences, the hotel has three restaurants and one pool terrace cafe.
The hotel also offers two banquets and a set of conference spaces. For outdoor sports enthusiasts, there is a golf venue, a basketball court, a badminton court, and a children's play zone. Furthermore, the visitor can enjoy a temperature-controlled swimming pool, two children's pools, a spa, a gaming center, a movie theater, a library, a fully-equipped gym, a sauna, and boutiques.
The Palace Luxury Resort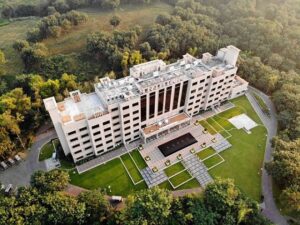 In the midst of Sylhet's impeccable natural splendour, The Palace Luxury Resort was established over 150 acres of land. It is the largest resort in the country, and it offers 22 opulent hilltop residences and 107 outstanding guest rooms in its Tower Building. The resort is more appreciated by outdoor devotees as it offers numerous activities like angling, cycling, boating, and trekking.
The resort endeavours to keep its guests engaged and cheerful with its Water Zone, indoor and outdoor activity zones, jacuzzi, sauna, movie theater, and a lavish Turkish bath. While you are taking in the magnificent majesty of nature, you can also enjoy a memorable culinary voyage with several dining options and a bar. The resort also has a magnificent banquet centre, four meeting rooms, an amphitheater, and a fountain-view lawn.
Ocean Paradise Hotel & Resort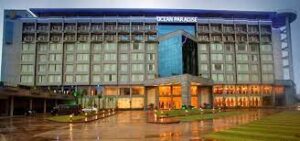 The Ocean Paradise Hotel & Resort was established in 2011, offering a panoramic view of the Bay of Bengal. Now it is one of the top options of travellers who adore a blend of luxury and quality services. There are nine categories of rooms and accommodations with immaculate decorations and cozy atmospheres. Moreover, there are two restaurants, a lounge, and a pool café to give your the most sophisticated and delightful dining experience.
Ocean Paradise has one of the largest ballrooms in Cox's Bazar to hold celebrations, corporate gatherings, seminars, workshops, and other events. It also features a recreational pool with all modern amenities, a fitness center, and relaxing leisure services.
Zabeer Hotel International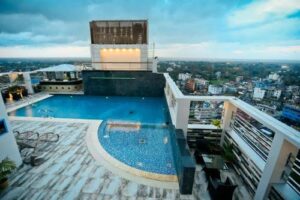 Being established in 2018 in Jessore, Zabeer Hotel International is quite new in the hospitality industry of the country. Yet, with its magnificent service quality and extravagant aesthetic, the hotel has become one of the most luxurious five-star hotels in the country.
Zabeer Hotel International is one of the most affordable five-star hotels in Bangladesh. It offers five various kinds of rooms, all with stylish yet minimalist interiors. There are also three restaurants in this establishment, including a rooftop dining option, to offer you the most delectable local and Pan Asian cuisines. Moreover, the hotel provides three conference facilities for hosting events. In addition, there is a rooftop swimming pool, a well-equipped gym, a cosmetic salon, and leisure facilities.
Momo Inn Hotel & Resort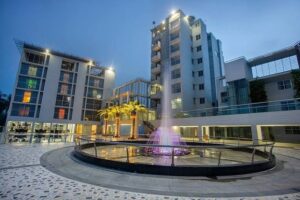 Momo Inn is the first five-star hotel located in the country's northern region, Bogura. The hotel is designed to offer its visitors a combination of relaxation and exhilaration while immersing them in the countryside's natural beauty. There are 160 beautifully decorated rooms and suites of six various categories to offer you a taste of utmost comfort.
For an exquisite culinary experience, visitors can visit any of the six dining options: The Grand Restaurant, Lobby Cafe, Coffee Shop, BBQ & Grill, Club Lounge, and Pool Deck. There are also two banquet halls, a round-table conference room, a meeting room, and a lake-view mezzanine for conducting events. In addition, the hotel provides a swimming pool, a fitness center, two salons, a library, a gift shop, a workstation, and helicopter transportation.
Sayeman Beach Resort

The Sayeman Beach Resort was established in 2015, and it is located at Kolatoli point in Cox's Bazar. The hotel incorporates modern sophistication and vintage style into its exterior and interior design. It offers visitors the uttermost comfort, impeccable services, and immense luxury. You can thoroughly appreciate the sandy beaches, the warmth of the sun, and a panoramic ocean view here.
There are 245 accommodations and residences available in five categories. Each room is designed with vibrant colors and offers outstanding views. There are also four dining options for the visitors to dine, drink, and mellow out. Moreover, visitors can experience 24 hours in-room dining. The hotel also offers two banquet halls and three meeting spaces for conducting events. Other facilities include a gorgeous infinity pool, a Jacuzzi, a gym, a children's pool, jet-ski, and surfboard activities.